CZC LA Pire Sabz day & Maidyoshahim Gahanbar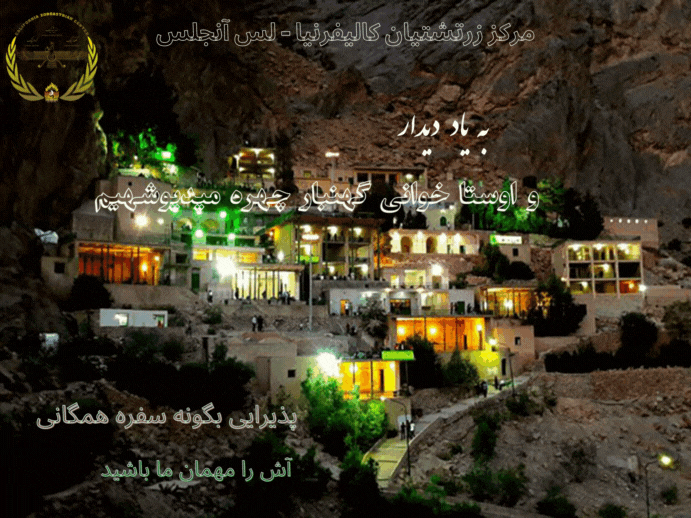 Maidyoshahim Gahanbar will be on Sunday 25, June 2023 at the Alta Dena Park in Pasadena, the same location as our usual annual location for Pir e sabz celebration. Everyone from our community is welcome to participate.
Pir e sabz festivities is from 10 a.m. to 5 p.m and Gahanbar prayer is from 11 a.m to 12 noon.
Like all other years, Mr. Keikavoos Varjavand and Ms. Sima Shidfar have generously sponsored and donated to the event and expenses;
Your participation and attendance are an encouragement for our community unity and solidarity.
به آگاهی می‌رسانیم که گهنبار چهره میدیوشهیم،در روز یکشنبه ۲۵ جون ۲۰۲۳ برابر۴ تیرماه، همزمان با برگزاری به یادبود پیر سبز در پارک آلتا دنا در پاسادنا برگزار میگردد. از همگان برای هم بهره شدن در این گهنبار دعوت می‌شود. مراسم به یادبود پیرسبز، طبق روال گذشته ، از ساعت ۱۰ بامداد تا ۵ پسین با خیراندیشی،دهش و همیاری خانم سیما شیدفر و آقای کیکاووس ورجاوند، برگزار می گردد. اوستا خوانی گهنبار از ساعت ۱۱ تا ۱۲ نیمروز در همان مکان. با سپاس